The Medical Center Names March Sunshine Award Recipient – March 2022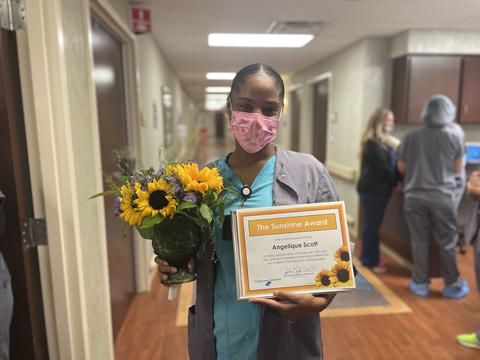 We're honored to award this month's #SUNSHINEAward to Angelique Scott, one of our most valued Housekeepers in our Environmental Services department. ☀️🌻
Read on to see the many reasons why Angelique was nominated for the award:
"Angelique is one of our primary housekeepers on the 2nd floor/Women's Services. Not only does she do an exceptional job with the duties assigned to her, but she goes out of her way to make conversation with our patients and their families, always asking if anyone needs anything or if there is anything she can help with. She exemplifies what it means to be a team player and with her smiling face walking in the door even on the rough days you can't help but smile back at her!"
"She is always going above and beyond, keeping a smile on her face, and brightening everyone's day. She truly is awesome at her job!"
"She is always willing to help and is very efficient at her job. Angelique always has a smile on her face and when asked for anything she is right there to help. I am so thankful we have Angelique on our floor, she is truly an asset to our unit."
"Angelique is a WONDERFUL EVS employee. She is compassionate to all and does her work with a positive attitude, always."
"Angelique is always going above and beyond for Women's Service. Her work ethic is top notch, and she always does a wonderful job cleaning our patient rooms, OR, nurse's station, lounge area and general hallways. We can always tell when she's off! We love and appreciate everything she does for our unit."
"Angelique always goes above and beyond to help us on labor and delivery. Cleans like she is supposed to, goes back over things if we ask. Changes curtains, dusts, and asks us if we need anything on top of her normal job duties. She is always looking for the next thing to be done and is just an asset to this hospital and she deserves this award."
"Angelique always has a positive, cheerful attitude. It is a pleasure to work with her every shift we are together."
"She is so amazing! She does so much more than what is required! She works so hard every day. She is kind! She is compassionate! She is more than a team player! She is part of our family, and we love her! A specific situation that she made a difference I could make countless! She has rushed in to clean ORs so we could get c sections back when the ORS were left undone. She has clean multiple rooms that we're left dirty all night. She makes sure our nurse's stations are too top shape! We NEED HER to keep our floor running! Without her we would be in trouble. The unit can absolutely tell when she has been off. When it's her turn to work everyone is excited because we know our unit will be taken care of! She deserves this award 100%!"
"Angelique is always happy, smiling and has a great attitude. She does not have the "that's not my job" mentality and will do anything to help anyone. She has excellent customer service and shows compassion to her coworkers and patients."
"Angelique is always very willing to help at the drop of a hat. She never has a bad attitude, she's a very hard worker and is a team player!"
"Angelique is a ray of sunshine on our floor. She is the only EVS worker we know that completes every task properly. She goes above and beyond her duties and is ALWAYS willing to lend a helping hand. Angelique is part of the Women's Services family, and we appreciate her hard work more than she knows."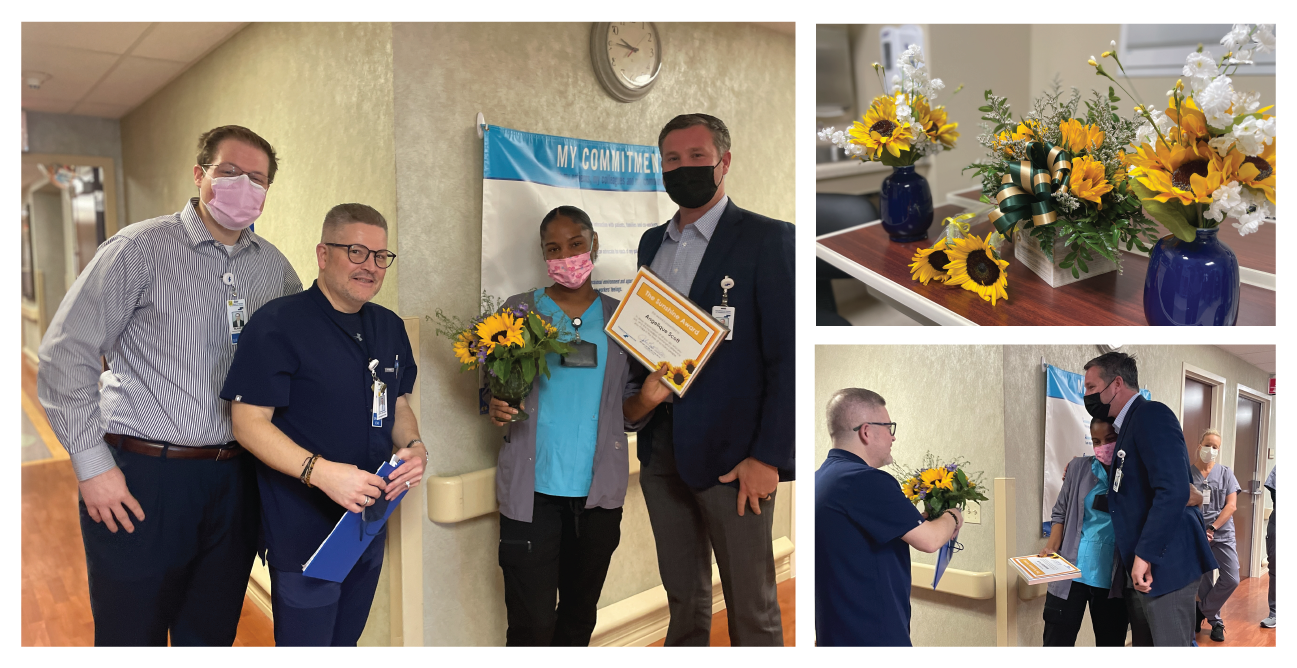 The Sunshine award exists to help recognize hospital staff members that support nursing staff! Without sunshine, DAISYs wouldn't be able to grow and likewise, nurses at The Medical Center wouldn't be able to do their jobs without so many people that work in the background to make everything possible.