Weight Loss Surgery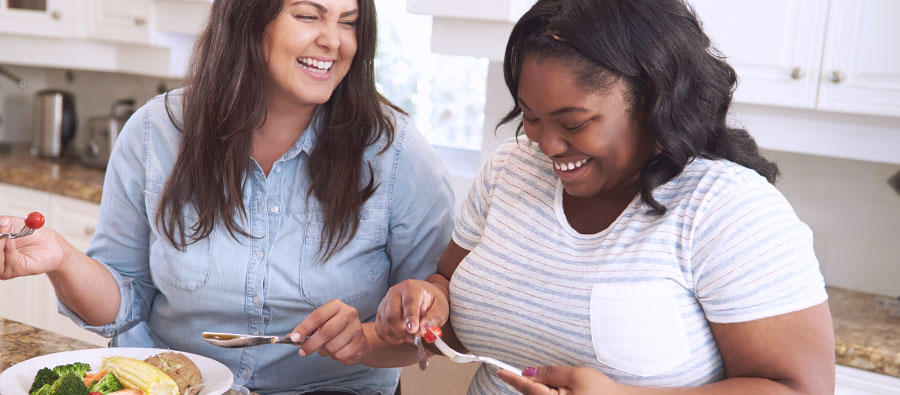 We are here to help you find what you need.
As the second leading cause of preventable death, obesity is a major health concern. According to the Centers for Disease Control and Prevention, more than one third of adults in America—more than 72 million people—are obese. If you have had trouble losing weight and/or keeping it off, surgical weight loss may be a solution.
Candidacy for weight loss surgery is determined by criteria published by the National Institutes of Health and is mostly based on an individual's Body Mass Index (BMI). BMI is a mathematical measurement of a person's weight in relation to their height, and is used to determine if a person is underweight, at a healthy weight, overweight or obese. Surgical candidates have a BMI of 40 or more, or a BMI of 35 to 39.9 with one or more co-morbidities. A BMI of 35-40 is typically equivalent to 80-100 pounds of extra weight.
Our Bariatric Clinic respects your privacy and offers a separate entrance to our surgical weight loss center. Every patient enjoys an all-private custom built suite that includes
Spacious doorways
Specially-sized beds
Comfortably-sized gowns
Easy-access restroom and shower
Surgical Suites
Treatment Options Explained
Gastric Bypass: the most frequently performed weight loss procedures in the United States. In this procedure, the surgeon creates a small stomach pouch, about the size of a large egg. The pouch is created by dividing the small intestine just beyond the first 50cm of small intestine, also called the duodenum, for the purpose of pulling it up and attaching it with the newly formed stomach pouch. The other end of the small intestine is connected into the side of the Roux limb (the portion of the small intestine attached to the new small stomach) creating the "Y" shape that gives the technique its name.
Revision Weight Loss Surgery: a surgical procedure that is performed on patients who have already undergone a previous bariatric surgery, and have either had complications from such surgery or have not successfully achieved significant weight loss results from the initial surgery.
Sleeve Gastrectomy: generates weight loss solely through gastric restriction, or reduced stomach volume. The stomach is restricted by dividing it vertically and removing more than 85%. This part of the procedure is not reversible. The remaining stomach is shaped like a banana and measures from two to five ounces, depending on the surgeon performing the procedure. The nerves to the stomach and the outlet valve (pylorus) remain intact to preserve the functions of the stomach while reducing the volume.
Obesity-Related Health Threats
Obesity-related health conditions are health conditions that, whether alone or in combination, can significantly reduce your life expectancy. A partial list of some of the more common conditions follows. Your doctor can provide you with a more detailed and complete list:
Type 2 Diabetes
High blood pressure/Heart disease
Osteoarthritis of weight-bearing joints
Sleep apnea/Respiratory problems
Gastroesophageal reflux/Heartburn
Depression
Infertility
Urinary stress incontinence
Menstrual irregularities
Checklist for Insurance Approval
Benefits: Call the customer service number at your insurance company, and ask for the benefits department. Ask if you have benefits for bariatric surgery. This information can also be found written in your policy on the exclusions page. You may be asked for CPT Codes, which are:
Lap Banding 43770
Sleeve Gastrectomy 43633
Gastric Bypass 43644
Surgical Clearance: This exam is used to determine that a patient does not have any underlying medical conditions that would prohibit them from having surgery. A letter/copy of the exam notes needs to be sent to our office after each exam is complete.
Pre-operative Lab Work: Each patient will be asked to have labwork completed, with a copy of your results sent to our office upon completion.
Diet Records: You will be asked to provide documentation of all recent medically supervised weight loss attempts. Most insurance companies require proof that you have tried physician-supervised weight loss attempts. We will review your insurance company requirements with you at you initial consultation visit. 
Medical Records: Any visits to a doctor, surgeries, lab results, diagnostic procedures and ER visits should be included. Request records pertaining to your weight and any conditions worsened by your weight, such as hypertension, diabetes, degenerative joint disease, etc. We need records dating back five years, unless insurance indicates a need for more.
Psychological Evaluation: The importance of obtaining a thorough psychological assessment cannot be overstated. A detailed clinical interview and objectively scored psychological tests should be part of a comprehensive psychological evaluation. Many insurance companies require an evaluation for benefits and our surgeons require an evaluation for all patients.
Preparing for Surgery
Our team is here to help you achieve your goals and to support you as you prepare for this exciting change in your life. Here are some suggestions that you can begin to work on right away.
Gradually decrease the amount of caffeine you consume. Patients who stop caffeine suddenly at the time of surgery may experience withdrawal symptoms such as intense headaches. 
If you drink carbonated beverages, now is the time to stop. When a cold compressed gas (carbonation) hits a 99.5 degree closed system (your stomach) it expands. That can be very problematic, especially after surgery.
Start a program of aerobic activity such as walking or swimming for 20 minutes, four times a week. BUT, get a physician's approval before you start any program involving physical exertion!
Stop smoking. Cigarettes interfere with your lung's ability to exchange oxygen, and nicotine can impair circulation, which can impede healing after surgery and increase the chance of infection.
Reduce the amount of refined carbohydrates you consume. Refined carbohydrates include foods such as white rice, pasta and cookies.
What to Expect After
Physicians, nurses, dieticians and therapists each bring their specialty to help you discover a new way of life and continue successful weight loss at home. You have just the right support, just when you need it most.
FREE Seminars: To register call 1-877-745-WELL
Monthly Support Group Meetings: Free and open to the public. The support group meetings are a great place to come and talk with others who have successfully had bariatric surgery at The Medical Center of Southeast Texas. The meetings are very informal yet, informative. We cook, eat, discuss nutrition and supplements, and everyone is willing to share thoughts and answer questions about their surgical weight loss experience.
Physical therapy and exercise program recommendations
Psychological assessment and treatment, if necessary
Nutritional counseling
Long-term follow-up care
Conditions
BMI of 40 or more
BMI of 35 to 39.9 with one or more co-morbidities
Treatments
Adjustable Gastric Banding
Gastric Bypass
Revision Weight Loss Surgery
Sleeve Gastrectomy
Resources
A Dozen Ways to Fit in Fitness

With a little creativity, you might be surprised how much extra activity you can add to your day. Health and fitness experts agree that moderate exercise offers significant health benefits for us all.