2nd Annual Women's Health & Wellness Expo Hosted by The Medical Center of Southeast Texas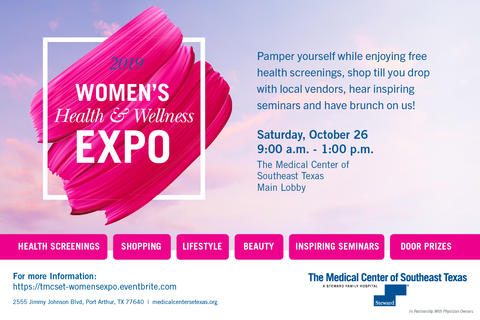 The Medical Center of Southeast Texas to Host 2nd Annual Women's Health & Wellness Expo on Saturday, October 26
PORT ARTHUR, TX (October 15, 2019) – Calling all busy women: Treat yourself to free health screenings, shopping, beauty & spa treatments on Saturday, October 26th
WHY:              Overextended. Overstressed. Overworked. These words are a reality for many women who are living in overdrive, taking care of their families, working 40+ hours per week, and ensuring their household is running smoothly. And while they're well aware of their lengthy list of responsibilities, not many are aware of the health status of their own bodies. That's why The Medical Center of Southeast Texas, a community-focused hospital, is planning to treat Southeast Texas's everyday "Wonder Women" to some much-deserved pampering, free health screenings, health information, shopping with local boutiques and vendors, some incredible giveaways and a little "me time."
WHAT:           To help women to reconnect with their bodies, minds and spirit, The Medical Center of Southeast Texas is holding its 2nd Annual Women's Health & Wellness Expo on Saturday, October 26, from 9am to 1pm.
The women's event will offer a true 360-degree view of women's health, covering wellness topics that most impact females of all ages. During the expo, women will have the chance to meet our certified breast navigators, schedule their annual 3D mammogram, undergo health screenings and learn easy-to-implement tips to improve their health and wellness. Planned health screenings, seminars and assessments will include:
Health Screenings:
Glucose screenings
BMI and weight loss education
Strength assessments
Heart disease and stroke risk assessments
Joint Academy Education
Blood pressure screenings
And much more!
Seminars:
"Managing Your Inner Crazy!" by Randy Guttenberger, President of Rhino Insights, Inc. | Author | Personality Insights Analyst
"Estate Planning and More" by Sarah Norman, JD with Orgain, Bell & Tucker, LLP
"Healthy Eating & Intermittent Fasting" by Dr. Jamie Packman
 
Attendees can also enjoy complimentary brunch items with mocktails and lattes while they shop with local boutiques and vendors, take part in beauty, health and wellness treatments and presentations, such as:
Mini makeovers with beauty tips
Local boutique pop-up shops
Nutrition and Cooking demos
Arts & Crafts
Much more!
 
Each attendee will have the chance to register for many door prizes.
WHEN:           Saturday, October 26, from 9am to 1pm
WHERE:        The Medical Center of Southeast Texas, 2555 Jimmy Johnson Blvd., PA, TX 77640
The event will be held at the Main Lobby Entrance, which is located at the front of the hospital.
REGISTER:   To register for this FREE event, visit www.medicalcentersetexas.org/events