TMCSET Volunteer Association Gives Back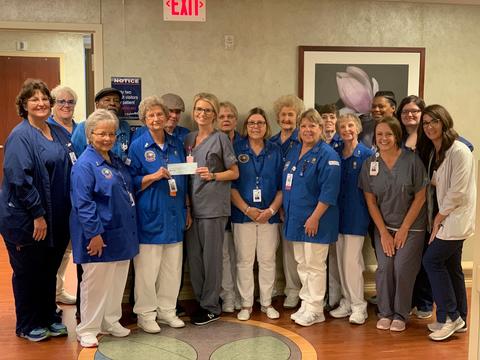 The Medical Center of Southeast Texas Volunteer Association is a popular group of individuals seen daily throughout the hospitals wearing blue vests and warm smiles.  They are the greeters, escorts, gift shop workers, parking lot hosts and helpers of a plethora of odds and ends that come up around the hospitals. But, some might be surprised to learn that it is much more than a helping hand that they lend to our hospital and community. The Medical Center of Southeast Texas Volunteer Association hosts many fundraising events throughout the year. They work very hard to execute jewelry sales in the hospital Auditorium, retail sales in the Main Lobby, popcorn sales throughout the year – just to name a few.  The reason behind all the fun and FUNdraising is to raise money for college scholarships to benefit local SETX high school students.  Graduating seniors across the region are encouraged to apply for a college scholarship in the spring through TMCSET Volunteer Services. The only criteria is that they plan to commit to a future in healthcare.  This past year, 6 students total were chosen from Nederland High School, Port Neches-Groves High School, Bridge City High School and Hamshire-Fannett High School. Each student received $2,000 to assist them in their college journey. 
This tradition is long standing and one that was adopted from Mid-Jefferson Hospital.  The Medical Center of Southeast Texas newly retired Director of Physical Therapy, Ronnie Gregg, was awarded a scholarship back in 1978 by the Volunteer Program. This was the first step in his lifelong commitment of caring for the therapy needs of SETX patients.  Since TMCSET opened its doors, The Volunteers have distributed over $78,000 in college scholarships to local SETX students. 
In addition to the scholarship fund, the Medical Center of Southeast Texas Volunteer Association raise money to give back to the hospital in various ways.  From new equipment to program needs, they always have a project in the works. Most recently, they donated $2000 to the Women's Center Bereavement Room Project which helped them to transform a hospital room into a therapeutic setting for grieving families experiencing loss. It will also be utilized as a place for families within the adoption process, as well as a home for the new M.O.M.S. group which provides a place of support and therapy for Moms throughout Southeast Texas. 
For more information on our volunteer services, please call 409-853-5177.