The Medical Center of Southeast Texas to Host Heart Kids Art Gallery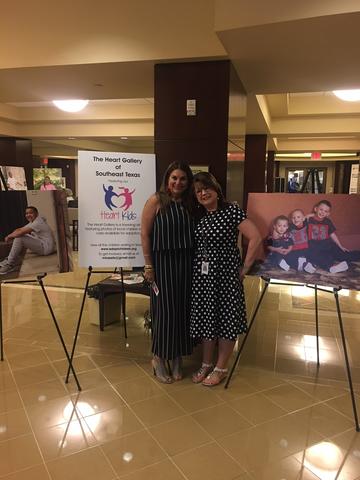 The Medical Center of Southeast Texas invites the public to visit their Port Arthur Hospital Lobby while they host the Heart Kids travelling art show from Monday, May 14 – Friday, May 31.  This is a program of the Texas Department of Family and Protective Services. Their goal is to help raise awareness for the children who are living in foster care, many for extended periods of time, and are waiting for a permanent family and a life of stability and love.
What is Heart Kids?
Heart Kids is a traveling art show with life size portraits of children in foster care available for adoption. The hope is to raise awareness for these precious children and their need for a forever family.  These children are currently free for adoption and waiting for a family to call their own. A place where they feel safe and wanted. A place they will be able to return to as an adult. They are waiting for someone to love them for who they are and make a lasting commitment to always be there for them.
For more information about the Heart Kids Art Gallery, contact:
Shari Pulliam
409- 730-4141
For more information about adoption, contact:
Amy Hughes
409-730-2436
##
About The Medical Center of Southeast Texas
The Medical Center of Southeast Texas is a provider of leading-edge, quality healthcare services in a family-friendly environment. With two hospital locations serving the Southeast Texas region, we are never far from home. The full service hospital in Port Arthur, Texas is a 204 bed acute care facility that has earned numerous distinctions for quality including accreditations for chest pain, Stroke, Emergency, Neonatal Intensive Care and Orthopedics. Just down the road, conveniently located in the west end of Beaumont, The Medical Center of Southeast Texas Beaumont Campus is dedicated to providing leading-edge and exceptional emergency, surgical and diagnostic services to the Southeast Texas community. The Medical Center of Southeast Texas is a physician owned hospital that brings world-class medical expertise and compassion to the care of every patient.
About Steward Health Care System
Steward Health Care, the largest private, for-profit hospital operator in the United States, is a physician-led health care services organization committed to providing the highest quality of care in the communities where patients live. Headquartered in Boston, Massachusetts, Steward operates 38 community hospitals in the United States and the country of Malta, that regularly receive top awards for quality and safety. The company employs approximately 40,000 health care professionals. The Steward network includes more than 25 urgent care centers, 42 preferred skilled nursing facilities, substantial behavioral health services, over 7,300 beds under management, and approximately 1.5 million full risk covered lives through the company's managed care and health insurance services. The total number of paneled lives within Steward's integrated care network is projected to reach 3 million in 2018.
Steward's unique health care service delivery model leverages technology, innovation, and care coordination to keep patients healthier. With a culture that prioritizes agility, resourcefulness, and continuous improvement, Steward is recognized as one of the world's leading accountable care organizations. The Steward Health Care Network includes thousands of physicians who help to provide more than 12 million patient encounters per year. Steward Medical Group, the company's employed physician group, provides more than 4 million patient encounters per year. The Steward Hospital Group operates hospitals in Malta and states across the U.S. including Arizona, Arkansas, Florida, Louisiana, Massachusetts, Ohio, Pennsylvania, Texas, and Utah.