84 Year Old Stroke Patient Saved by Telemedicine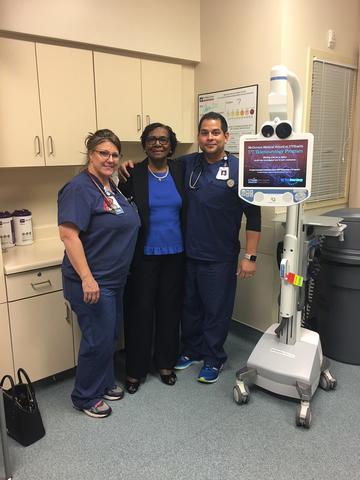 One year ago, 84-year-old Betty Ozen presented to The Medical Center of Southeast Texas with stroke symptoms. As a part of the hospital's telemedicine program, she was examined by a neurologist 100 miles away in Houston. She has now made a full recovery.
Betty Ozen's morning began just like any other. An active and independent grandmother of 12 and great-grandmother of six, Ozen had just finished her breakfast and was prepared to drive herself to visit a friend when she suddenly became so dizzy she could hardly walk.
The 84-year-old crawled to her phone and dialed her daughter, Cheryl Tripplett, the principal of a nearby school. Tripplett quickly arrived at her mother's home and enlisted the help of a neighbor to get her mother into the car. The pair rushed to The Medical Center of Southeast Texas, where Ozen underwent examination with a neurologist.
Unlike a traditional evaluation, the physician wasn't actually present in the room. Instead, the neurologist was an hour-and-a-half drive away in Houston at McGovern Medical School at The University of Texas Health Science Center at Houston (UTHealth). Thanks to the UTHealth Telemedicine Program, Ozen and thousands of other patients like her are able to get critical, life-saving care within the narrow window of time in which treatment can be effective. Assessments are carried out via real-time live video conferencing.
Tzu-Ching "Teddy" Wu, M.D., UTHealth Telemedicine Program director and associate professor of neurology with McGovern Medical School, says Ozen's recovery perfectly illustrates the power of telemedicine, particularly for patients who lack direct physical access to expert vascular neurologists. "We offer both emergency and follow-up consultation, harnessing the most advanced technology to assess patients fully and make the right medical decisions in a timely fashion," says Wu, who is affiliated with Memorial Hermann Mischer Neuroscience Institute. "We are one of the few institutions in the country which provides this service to a growing network of community hospitals. When it comes to stroke, time is brain, so these decisions are vital and, as in Ozen's case, they can significantly improve the chances of a successful outcome."
Ozen is full of praise for the care she received. "Telemedicine is a godsend," says Ozen, who has now made a full recovery. "We don't have access to the stroke specialist locally. Telemedicine brings the specialists to me."
During a telemedicine consultation, a neurologist can examine a patient's ability to speak and perform basic tasks. These results, along with brain scans, can help a physician prescribe clot-busting medication or other lines of therapy. In Ozen's case, tissue plasminogen activator (tPA) was administered at The Medical Center of Southeast Texas to dissolve the arterial blockage responsible for her acute ischemic stroke. Ozen received further care after being airlifted to Memorial Hermann-Texas Medical Center.
On April 26, one year after her stroke, Ozen and her daughter were reunited with the emergency nurses who provided them with stroke care. "It made my day," says Ozen. "I have been waiting to come back and meet them. I received such exceptional care. I've been wanting to thank them!"
When Tripplett, Ozen's daughter, was asked if she had any apprehension about seeing a physician on a screen while her mother was experiencing a stroke, she said, "I didn't think anything of it. Technology is everywhere. Anyone available to help my mom at that time was more than acceptable. It wasn't a doctor on a computer to me – it was a doctor in front of us, helping us."
"There were many happy tears," says Katie Celli, Director of Marketing and Public Relations at The Medical Center of Southeast Texas. "Ms. Betty and her daughter, Cheryl, were able to reunite with the nurses who cared for her. It was incredible for the nursing staff to see how well she was doing as they don't normally get to see the patient's progress after they leave us.  It has been a year since her stroke, and she is back to doing everything she did before... driving, walking her dog, going to church, even wearing high heels!"
##
About
The Medical Center of Southeast Texas is a provider of leading-edge, quality healthcare services in a family-friendly environment. With two hospital locations serving the Southeast Texas region, we are never far from home. The full service hospital in Port Arthur, Texas is a 204 bed acute care facility that has earned numerous distinctions for quality including accreditations for chest pain, Stroke, Trauma, Neonatal Intensive Care and Orthopedics. Just down the road, conveniently located in the west end of Beaumont, The Medical Center of Southeast Texas Beaumont Campus is dedicated to providing leading-edge and exceptional emergency, surgical and diagnostic services to the Southeast Texas community in a concierge setting. The Medical Center of Southeast Texas is a physician owned hospital that brings world-class medical expertise and compassion to the care of every patient.