The Medical Center of Southeast Texas Receives Generous Donation Thanks to NICU Nurse and 4Moms Company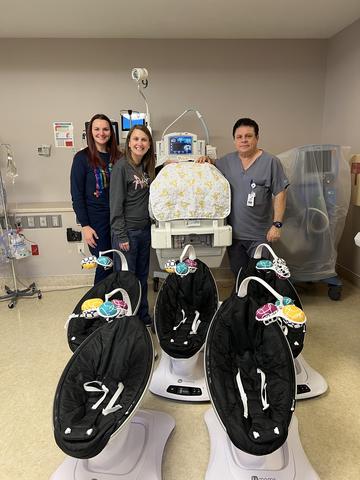 The month of November always reminds us to be thankful and this year, our NICU has 5 additional reasons. 4moms has generously donated 5 mamaRoo® multi-motion baby swings to our Neonatal Intensive Care Unit. These swings move the way a parent would when babies can't be in the arms of mom or dad, providing great comfort to the infant. The generous donation, in addition to donations from our amazing NICU staff, will ensure every NICU baby has state of the art comfort at their bedside at The Medical Center of Southeast Texas.
"Being a Level III NICU is a great honor and responsibility. Having state-of-the-art equipment allows us to pursue excellence in the care of our littlest patients," says Christina Irion, BSN, RN, Director of Women's Services.
Special thanks to Rebecca Guy, BSN, RN for reaching out to this resource and securing this considerate gift for our facility.  The Medical Center of Southeast Texas NICU continues to meet our community objective in service and care.