The Medical Center of Southeast Texas Awards July DAISY Award Recipient – July 2022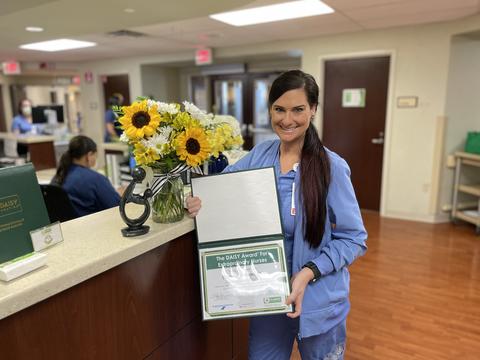 The Medical Center of Southeast Texas names it's DAISY Award recipient – Shanna Trahan, an LVN in the Telemetry department who was nominated by her peers for this award!
Read below to see why she was nominated and chosen as the award recipient!
"Shanna Trahan has exemplified what a nurse is and should be. I have had the pleasure of working with Shanna since she recently began her new career here as an LVN at The Medical Center of Southeast Texas. Shanna takes in all information given, is never afraid to take on a new task or ask a question and is eager to learn all things to help her patients and make her a better nurse. Shanna exudes compassion, empathy, care, and consideration for all her patients. She is also a pleasure to work with. She always wears a smile on her face (through her eyes of course because of the mask she has to wear) and always has kind words to say to her co-workers and her patients. Shanna is a wonderful example of a DAISY Award recipient. 
She recently lost her first patient during one of her shifts. Working in this field, we all know losing your first patient is the hardest thing. She was upset, but as her empathy and compassion illustrates, she was more concerned about the family members than herself. Shanna took this in stride and prevailed. She treats all her patients like they were her own family members. Shanna is and will continue to be an amazing nurse! Please consider Shanna Trahan as the Daisy Award recipient."